I'm doing it.
You guys said I couldn't. (You actually didn't say that at all but you were thinking it, probably, or at least I was and either I doubt myself more than anyone or everyone was thinking it, and the former is just too tragic to contemplate so I am accusing you thusly.) You said I'd give up halfway through, that I would never be capable of blogging consistently enough to write this post, that even I had to get tired of myself sometime and answering 121 questions should be enough to check that box.
But my internal monologue that assumption was wrong.
AT THE END OF THIS POST, I WILL HAVE COMPLETED ALL OF THE SUNSHINE BLOGGER AWARDS FOR WHICH I HAVE BEEN NOMINATED.
Nominated in up to this point, that is. But probably all I will ever be nominated in because I assume you all will snap to reality at some point and stop inexplicably associating me with the word "sunshine."
NOTHING COULD BE FURTHER FROM THE TRUTH. I am made of clouds and darkness. Hades trembles before me. Where my soul should be there is only a pile of buttered popcorn-flavored jellybeans, the most evil substance known to mankind.
I was nominated for this award by some of my favoritest bloggers in all of the land: the beautiful people behind Camillea Reads, The Book Cover Girl, Thoughts of a Brown Eyed Girl, and Bookgraphy. FOLLOW ALL OF THEM IMMEDIATELY, plz.
So let's get started! We have a lot of obsessing over me questions to get done.
Rules
Thank the blogger who nominated you in a blog post and link back to their blog.
Answer the 11 questions the blogger asked you.
Nominate 11 new blogs to receive the award and write them 11 new questions.
List the rules and display the sunshine blogger award logo in your post/or on your blog.
---
1. Name a hero you think would make a ruthless villain.
I wish every hero I liked were a ruthless villain. How much more fun is that??? All your faves + more death + more destruction.
Honestly how many heroes do I even like. Quick skim through my fav characters shelf is…not revealing a lot. Any of the heroes I manage to like in spite of their overwhelming wholesomeness are way too wholesome to imagine being badass bad guys.
Alice from Alice's Adventures in Wonderland could do ANYTHING and I'd be a pretty big goddamn fan of reading her as a villain thanks much.
---
2. If there's one antagonist you could choose to conquer the world with, who would it be?
Nowthissh*tiswhatIamtalkingaboutokaythisisamazingIamahugefanofthisconcept.
I would gather the Gray Man from The Dream Thieves or Piper from Blue Lily, Lily Blue to my heart and take on the goddamn universe with either one of them.
It would be…the honor of a lifetime.
---
3. What's one song you'd love to know the story behind?
Just like…every Vampire Weekend song ever. Because I love them more than my own life but good lord what are they ever talking about???
https://www.instagram.com/p/BEbuDVnBnEK/?taken-by=emmareadstoomuch
---
4. Do you keep a journal?
I am not what you may call…"in touch with my emotions." The few times in my life I have mistakenly deemed myself capable of keeping a journal they have contained:
mind-numbingly boring summaries of my day
evidence of complete mental breakdowns on a weekly basis
Neither is something I'm really into the idea of preserving on the page forever!!!
---
5. A recent book that everyone's hyping over but you just aren't tempted to pick it up?
Everless isn't tempting me at all. Too many neg reviews, too many trusted sources my dear boy.
I wasn't tempted by The Cruel Prince until literally every person I love and trust gave that book a big kiss right on the cover. So I guess that's happening.
---
6. What's the hardest thing about being a bookworm? Nothing money related or TBR related!
The scene: Classroom, interior, Boston. Time: January 17, 2018, approximately 10:46 a.m.
A student who looks like she is maybe one bad day away from death (this is EMMA) is writing basic information on an index card along with the other students in the class. 
EMMA (to herself)
Okay, my professor wants us to write down "something we geek out about." I've read a book a day so far this year! I can write about that.
Excitedly, EMMA writes down the factoid, and soon is passing her card up to the front.
PROFESSOR (addressing class)
Let's find out what some of you guys geek out about!
The PROFESSOR begins reading out the fun facts written on the index cards while fear and distress build on EMMA's face. It is clear that EMMA did not realize these facts would be shared with the room.
PROFESSOR (looking around room)
Emma…
EMMA raises her hand. She would be beet red if she was capable of blushing, but she isn't, for some reason that has oft been questioned.
PROFESSOR (con.)
You've read a book a day??
STUDENTs 1-29 react negatively.
STUDENT 2 (two seats away from EMMA and this straight up happened to me in real life for real)
Are you…okay?
EMMA
(Dies.)
https://www.instagram.com/p/BFUX0BBBnLr/?taken-by=emmareadstoomuch
---
7. Which animal would you take life advice from?
I would take advice from the mantis shrimp because it can punch through a bunch of sh*t and be really strong and badass and also see a bunch more colors than we can. So there's a lot to unpack there.
---
8. Do you wear jewelry? What's your favorite?
I do not because I get way too distracted and will just nonstop play with any ring or necklace or bracelet and also I do not have my ears or anything pierced #mybodyisatemple just kidding who cares pierce every inch of your ear if you want and I will follow suit by not doing that at all.
---
9. A villainous female character who deserved better.
All of them. Every single one. Every character should be an evil woman who gets a happy ending.
I wish Levana from the Lunar Chronicles was a little more fun. I almost loved her. Almost.
https://www.instagram.com/p/BWlGpDylJAB/?taken-by=emmareadstoomuch
---
10. What do you love about yourself?
Hoo, boy. This is a good question in that it is the hardest thing ever to answer and I am both embarrassed and stumped.
I am just going to very quickly type this with no spaces, which is the internet equivalent of getting this over with: IthinkI'mfunnyoccasionally.
---
11. What do you love about the literary community?
Two words: passionate-ass nerds.
Okay that was three but the ass was for emphasis. Not to say that the literary community is a bunch of nerds for asses. Ass fangirls.
---
1. What is your favorite book cover of all time?
EASY ANSWER: RIFLE PAPER CO. ALICE'S ADVENTURES IN WONDERLAND.
Favorite book. Favorite…stationery company? What even is Rifle Paper Co? "We sell stuff that is pretty."
Either way it is Good Enough For Me.
https://www.instagram.com/p/BegDVESlYH9/?taken-by=emmareadstoomuch
---
2. Aside from reading, what is your favorite pastime?
I am a pretty big comedy nerd. So. Comedy podcasts. Comedy TV shows. Comedy…Twitter accounts? It seemed like I needed three examples but I only really had two.
---
3. Who are your favorite authors of all time?
GET READY FOR AN ALL STAR LINEUP BOY.
WE'RE TALKING Steinbeck. Fitzgerald. Austen. Lemony Snicket. Jonathan Safran Foer. Roald Dahl.
And…it's a pleasure to announce…I have just announced a new member of this elite squad.
One who is alive.
One who writes YA.
IT'S EMILY HENRY BOIIIIIIIIIIIIIII.
---
4. What is the hardest thing about blogging?
I'm bad at it, which is probably the hardest thing.
Like every element. I'm bad at posting regularly. I'm bad at coming up with ideas. I'm bad at executing them.
Lately probably the hardest thing has been coming up with ideas. EVERY OTHER BLOGGER IN THE WORLD IS SO FUNNY AND UNIQUE AND CREATIVE AND I'M OVER HERE LIKE "Uh…is a review ok?"
---
5. What is your favorite thing about blogging?
THE PEOPLE. Easy n cheesy. Just the way I like my answers. And also my dinners. (PIZZA. MAC N CHEESE. GRILLED CHEESE. YUM.)
---
6. What is your favorite piece of bookish merchandise that you own?
A Raven Boys tank top from Blu Bear Bazaar!!!!! LOOK AT IT. So beautiful. Stupid wintertime preventing me from wearing this shirt by force of stupid cold weather that I haaaaate.
https://www.instagram.com/p/BdQFDWHlqiK/?taken-by=emmareadstoomuch
---
7. How many books do you own?
I only own a handful of ebooks and audiobooks and I will absolutely never know how many that is because I do not even slightly keep track, but I own. Like. Around 500 or 550 books.
Yay hoarding!
---
8. Where do you usually read? Is there a specific spot in your house?
Usually in my room at home. In my bed or on the couch in my apartment at school.
Now you have a mental image in case you ever…want to see me reading??? I'll paint you a word picture of the scene next time.
---
9. What is your favorite book to movie adaptation?
Maybe The Little Prince because it's so cute. Or The Princess Bride because it's awesome. Or A Little Princess because the movie is better. Or Disney's 1951 Alice in Wonderland because it's so wonderful and I just watched it in last night.
Or one of the infinity ones I'm for sure forgetting!!!
---
10. What is your least favorite book to movie adaptation?
Uhhhhhhhhhh. The Divergent movies are pretty bad? But it's not like the books are that awesome either. Can't really blame them for being like "dear lord there has to be some way we can improve this story." Even if they were wrong, because they couldn't, and quite possibly made it even worse.
Also (note – to read the rest of the sentence with a full level of comprehension, you should know I am literally a heart eyes emoji): Theooooo Jaaaaaames. How can you really hate any book with Theoooooo Jaaaaaames in it.
Here's a picture of the hottest man alive to distract from the fact that I didn't really answer the question.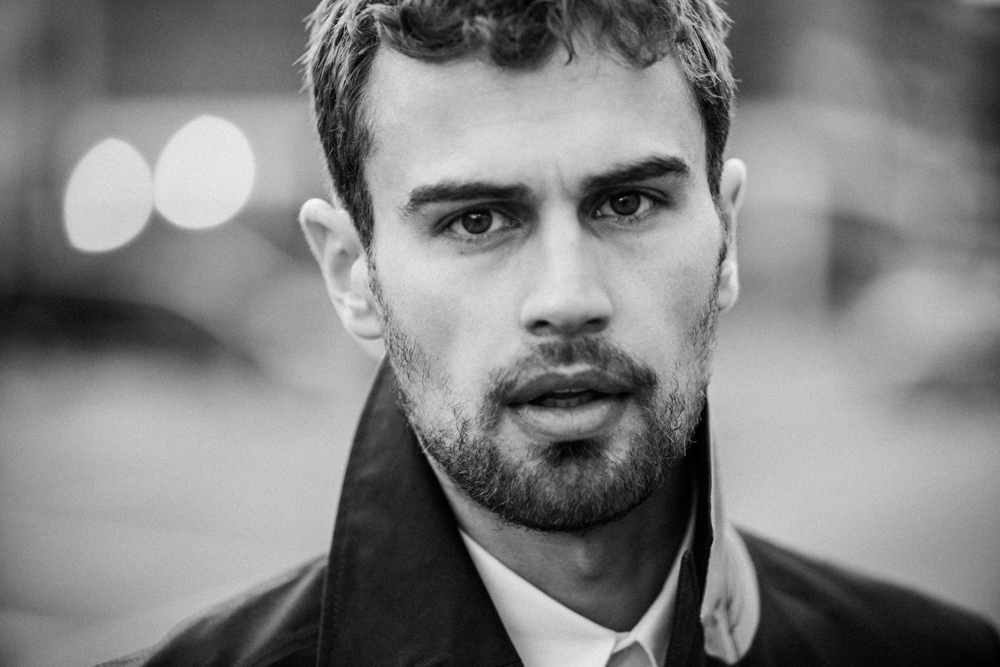 ---
11. Write down the first animal that comes to mind. Ready, set, go! Tell me something cool about it!
I am just…constantly thinking about the mantis shrimp. See: #7 in the last section.
---
1. Favorite thing to eat/drink on a hot day?
SLUSHIES SLUSHIES SLUSHIES YUM. They are so good. One of my top four favorite drinks, probably, and by top four I mean "absolutely my favorite drink, what the f*ck else would even qualify Emma you idiot."
To be fair, I was thinking water, coffee, hot chocolate, but I like slushies more than all of those things COMBINED. Because a water/coffee/hot chocolate combo would be gross! Hahahaha. I am so funny and not annoying at all.
---
2. Favorite fictional couple?
I do not…care about most fictional couples? Or any of them?
No, come on, there have to be at least some I'm lukewarm on. I have to be a 6/10 on a handful, 1 being I hope these two die in two separate hellfires so they don't spend any time together at all whatsoever, 10 being I am going to get my minister's license online and marry these two my damn self if I have to.
Oh, duh, I like Darcy and Lizzie from Pride & Prejudice.
https://www.instagram.com/p/BYGlLfDl5Ve/?taken-by=emmareadstoomuch
---
3. Favorite book cover?
Already answered this one in the last section! See #1.
---
4. Favorite LGBT+ book?
I'LL GIVE YOU THE SUN I'LL GIVE YOU THE SUN I'LL GIVE YOU THE SUN I'LLGIVEYOUTHESUN I'LL GIVE YOU THE SUUUUUUUUUUUUN!!!
I'll Give You the Sun.
---
5. Favorite book quote(s)?
I have a bunch and they're all amazing, but my favorite right now is as follows:
"Strange as it may seem, I still hope for the best, even though the best, like an interesting piece of mail, so rarely arrives, and even when it does it can be lost so easily." –Lemony Snicket
https://www.instagram.com/p/BPNg_RSDmKw/?taken-by=emmareadstoomuch
---
6. Do you smell your books?
This is the weirdest thing ever, but I usually…forget to? I just forget it's a thing and then anytime someone mentions smelling them I'm like, oh yeah! Books smell so good! I should remember that.
But I never do.
---
7. Favorite middle grade novel?
I LOVE MIDDLE GRADE I LOVE MIDDLE GRADE I LOVE MIDDLE GRADE. Look here's 194 middle grade books on my GR shelves.
But it's probably A Series of Unfortunate Events. Specifically The Penultimate Peril.
---
8. An author whose books you will never read?
Uh. Probably Brandon Sanderson, because his books are all really long high fantasy which is boring anyway and also he's homophobic.
You can read the best discussion post of all time that also mentions Sanderson here.
---
9. Last song you listened to?
I'm sick of my own playlist right now so I've mostly just been listening to podcasts. But I think I listened to Know How by Young MC yesterday because I'm incredibly smug about knowing the whole rap.
https://www.instagram.com/p/BeYaL8SFOzn/?taken-by=emmareadstoomuch
---
10. Hats or earmuffs?
I've actually never in my life worn earmuffs, but I haven't left the house without a hat in a month.
I HATE THE WINTER GET ME OUT OF HERE. I DON'T HAVE THE HEAD SHAPE FOR A WINTER HAT PLEASE TAKE PITY ON ME.
(The previous caps-lock'd words were directed to the sun itself.)
---
11. What's your zodiac sign?
Libra and I purely do not relate to any of the…fortunes? What are the things called? HOROSCOPE.
---
1. Why did you decide to start blogging?
Self-obsession.
---
2. What is your favorite outdoor activity?
Turning around and going RIGHT BACK INSIDE.
Oh, man, do I hate outside.
https://www.instagram.com/p/BVPxdAtAd6h/?taken-by=emmareadstoomuch
---
3. What was your first blog post and would you change anything about it now?
My first post was literally just "hey this blog will be operational eventually," because classic. My first actual post was my review of Summer Days & Summer Nights, since this blog was straight up just where I posted every single review I ever wrote with no changes from Goodreads and absolutely no interaction with any other blogs.
So maybe I would go back and NOT BE HORRIBLE AT THIS.
---
4. What is your favorite post you've written?
I like my 20 favorite books of all time post!!! When you hate everything it's nice to carve out some time to discuss the stuff you DON'T hate. Even if there are only 20 things to talk about.
---
5. If you could be transported to any world from a book, where would it be?
Well, I just wrote a post on my ten favorite settings ever, but that is not the only reason that this is the least surprising answer any human could ever give to any question but hey here we go: I WOULD GO TO WONDERLAND.
Second choice: le Cirque des Rêves. Choices 3-10, available at the previous link.
https://www.instagram.com/p/BevfG-6FN5M/?taken-by=emmareadstoomuch
---
6. Summarize your life with three songs.
Bored – Billie Eilish
Tell Me if You Wanna Go Home – Keira Knightley
All-Nighter – Bad Bad Hats
This is meant to be a joke about how I'm always bored and always wanna go home and never sleep if remotely possible.
---
7. How do you come up with a blog post?
It's like. Reviews. Tags. Stealing other people's ideas. The Big Three.
---
8. Do your friends and family know about your blog?
My family does! My mom reads it sometimes. (Hi Mom if you're reading this.) I think my friends know that it exists because the link is on my Instagram which they DO follow but I don't think they read it??? Praying that they don't that'd be the weirdest ever.
Exciting stuff.
https://www.instagram.com/p/BeGlrO0lQ75/?taken-by=emmareadstoomuch
---
9. What is the most valuable thing you've learned from blogging?
The POWER of FRIENDSHIP.
And also how much I like reading and writing and talking about those things with cool people who like them too.
But mainly the POWER of FRIENDSHIP.
---
10. What is the longest book you've read?
Oh god I don't know. Goodreads doesn't calculate this for me and I'm helpless without Goodreads.
The longest book I read last year was that one really long Harry Potter one. So maybe that.
---
11. Where are you from, and what is the most common stereotype or misconception about your home town/state/country?
I'm from outside of Philadelphia, Pennsylvania, AND THE BIGGEST MISCONCEPTION IS THAT THE FANS THERE ARE THE WORST BECAUSE THEY ARE NOT THEY ARE SO GOOD AND OUR TEAM JUST WON THE GODDAMN SUPERBOWL FOR THE FIRST TIME EVER AND IT WAS SUCH A GOOD GAME AND SUCH A GOOD SEASON AND IT'S SUCH A GREAT TEAM SO COULD YOU PLEASE JUST LET US HAVE THIS FOR ONE FREAKING SECOND.
Thus concludes the me-answering-questions portion of the evening.
NOW, THE REALLY EXCITING PART.
I am going to nominate all of my favorite blogs to do the Sunshine Blogger Award. So there are going to be a LOT of nominations, and you should definitely check out all of these accounts because they are amaaaaazing. (The ones that nominated me are equally wonderful but you should have already checked them out, duh!)
Don't feel pressured to do this post of course!!! But the questions are going to be amazing so you probably should.
Also I KNOW I'm missing people so please do not despise me if you are one of those I missed WordPress does not make this easy.
So here we go. MY FAVES.
A Blissful Escape / A Ravenclaw Library / Beach Bookworm / Beaucoup Books / Blame Chocolate / Book Allure / Book Bastion / Bookchanted / BW Book Reviews / Coffee Loving Bookoholic / Forever and Everly / Howling Libraries / In Search of Dragons / Jamishelves / Kristin Kraves Books / Lu Reads / My 1st Chapter / Nut Free Nerd / Peanut Butter & Books / Reading and Rambling / RedGal Musings / Romie We Deserve Love / Run Away with Dream Thieves / The Bookish Actress / The Readers Bay / Windowsill Books
---
---
---
The Questions
1. Kiss, marry, kill: The main characters of the last three fiction books you read.
2. Would you rather be an elegant princess/prince type character in a fairytale, or a witchy badass villain?
3. You fall into a pit of acid or get bit by an exotic spider or into a verbal altercation with a wizard, and you're given the power to pull things out of books. Which book are you reaching into first???
4. You're being sent to a desert island and you can only bring one book, and it has to be one you haven't read yet. What book are you bringing?
5. Link your favorite blog post of yours!
6. Which Hogwarts house would you most want to be in, and which do you want to be in least?
7. Would you rather have a pet unicorn or grow a mermaid's tail when you touch water?
8. The last book you gave 5 stars and the last book you gave 1 star?
9. Who's a popular author you're just…not that into?
10. Show you're currently watching, or last one you watched?
11. Picture this: You're at the altar, about to say "I do" to Cornelius (or Cornelia) Wainwright III, a disgraced businessperson who is only marrying you for your chocolate factory fortune. You dramatically say "I can't do this" – which fictional character or celebrity do you confess your love to instead?